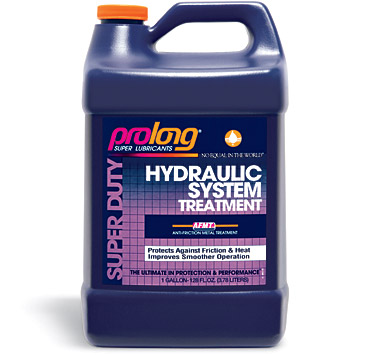 Prolong Hydraulic System Treatment is formulated with Prolong's AFMT™ advanced technology. Through a molecular and chemical process, creates a superior resistance to extreme pressure friction and heat. Lowers operating temperatures and withstands higher temperatures in excess of 500 degrees. Helps reduce operating overhead and improves the bottom line by reducing costly downtime due to frequent repair or replacements.
[wptabs]
[wptabtitle] Product Overview[/wptabtitle]
[wptabcontent]
Helps extend the life of hydraulic pumps i.e. rotary vein pumps
Reduces electrolysis, extreme pressure friction and excessive heat
Displaces moisture and protects metal surfaces
Helps prevent corrosion and oxidation
Formulated with the AFMT™ advanced technology formula
[/wptabcontent]
[wptabtitle] How to Use[/wptabtitle]
[wptabcontent]
Add 10% to total volume for hydraulic systems.
[/wptabcontent]
[wptabtitle]Available sizes[/wptabtitle]
[wptabcontent]
Gallon-size Bottle
5-Gallon Bucket
55-Gallon Drum
[/wptabcontent]
[wptabtitle]Videos[/wptabtitle]
[wptabcontent]
[/wptabcontent]
[wptabtitle] Testimonials[/wptabtitle]
[wptabcontent]
I have a 1999 Chevrolet 1500 pickup. This truck has 205,000 miles and has not had a single oil leak or tune-up since I bought it new. Needless to say, I have driven the tires off of this truck several times! Your Prolong Engine Treatment and Transmission Treatment are the reason I am still driving this truck everyday. I put Prolong in the engine and the transmission ever since the manufacturer's warranty ran out. I will take your product over any warranty any day!!!

Thank you, Prolong, for a fine product.
Alan Vogel, Plano, TX
I have used and promoted Prolong since I saw your infomercial, before you could even buy it in stores. I've been extremely happy with all your products. I could tell you about things that impressed me like after 25,000 miles with Prolong Transmission Treatment, I took it to my mechanic to change the filter and transmission fluid. He said that in all the time he has changed the fluid with me using the product there has never been any fine grindings in the pan, which to me means no wear.
W. Maurer, Saint Helen, MI
One of my vehicles is a '92 Suburban with an odometer reading of 285,000 miles. Since discovering Prolong products, six or seven years ago, I have used both your Engine Treatment and Transmission Treatment religiously. In the past two years I have also used your Injector Treatment and Fuel System Cleaner each Spring and Fall, as well. The results are so amazing that a note seemed in order. The original automatic transmission is continuing to shift smoothly as designed. My mechanic friend is extremely impressed by the engine and transmission performance.
J. Jacobson, New Brighton, MN
I bought a full size Chevy truck in 1991 with 39,000 miles on it. Today, I have 520,000 miles on it! We have been using Prolong engine and transmission treatment since and have never had any engine problems. Our transmission went out at 100,000 miles. When we had it replaced, we put the transmission treatment in. We were driving down the freeway when the transmission started to free wheel. We found one of the hoses was broke. We replaced it and went on our way. Come to find out the transmission line broke at my house about 120 miles from where we stopped. The transmission has lasted 400,000 miles and my truck is still running as strong as ever. Thanks for a great product.
D. Ales, Sacramento, CA
I want to say I use Prolong in all of my vehicles and I will not put no other treatment in them. I use from your engine treatment to your trans. treatment and not even once haves it ever let me down.
I greatly thank you and I will always use Prolong.
Tim B., Dillwyn, VA
[/wptabcontent]
[wptabtitle] Other Industrial Products[/wptabtitle]
[wptabcontent]View all industrial products HERE[/wptabcontent]
[/wptabs]