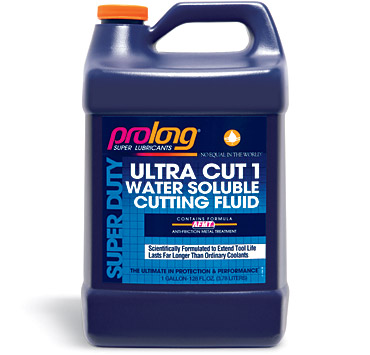 Prolong Ultra Cut 1 Water Soluble Cutting Fluid has proven to maximize results in sawing, grinding, boring, turning or milling processes where coolants are required. Ultra Cut 1 is extremely effective in eliminating uneven cuts and increasing tool life beyond the industry's standard expectations. Ultra Cut 1 is excellent as a flood coolant, and for making emulsions in machine shops where a coolant lubricant is required.
Product Overview
How to Use
Add Prolong Water Soluble Cutting Fluid to water while mixing vigorously (Do not use compressed air to do the mixing). Blend to the following ratios (parts of water to parts of WSCF):
 Drilling, Tapping, Boring, Reaming, Milling 10:1 to 15:1
 Turning, Sawing 15:1 to 30:1
 Grinding 30:1 to 50:1
Available sizes
Gallon-size Bottle
5-Gallon Bucket
55-Gallon Drum
Videos
Testimonials
Plant operating hydraulic bandsaws tested product in place of existing fluid. Saw-blade life was measured, as well as annual cost of blades. Previous saw operation was 35 cuts per blade at an annual cost of $1,500,000. With Prolong Ultra Cut 1, the saw operated 50 cuts per blade at a savings of $450,000 annually.
Railroad wheel manufacturing plant
I am writing this to let you know how pleased we are with your Ultra Cut 1cutting fluid. Never before have we used a product where we saw such an improvement right away. Our tool life is double what it used to, and I can tell you that we have definitely saved a lot of money since using your product. Another thing that we have noticed is the lack of smoke. At the high revolutions that our part is turning, it is common to sometimes see a little smoke. That has not happened with your product. One more thing that I would like to point out is the cleanliness of your product. No matter what you do to prevent it, you always get a little fluid on your hands. Well, comparing your cutting fluid to the ones I've seen in the past, I can honestly say that yours is a cleaner product.  Thank you for our improvement!
Jeff Hibler, Purchasing Manager
James Tool, Decker Prairie, TX
I would like to give you a very positive report on your Prolong Ultra Cut 1 water soluble cutting fluid. We are in the process of drilling and tapping 1045 Forge steel at 50 surface feet per minute. With your product, we have doubled our tool life from 600 pieces to 1200 pieces. We are also very pleased with the cleanliness, workability, and odorless quality of this product. Thank you.  I would recommend this product to any company that has a need for cutting fluids".
J. Downing, President
M.U.P, Inc.
The Prolong Water Soluble Ultra Cut 1 Cutting Fluid, when compared to our best water soluble oil, has proven to last over five times longer. This product has also extended tool life over 30% and significantly reduced operator adjustments normally required for compensation of tool wear. This product has also offered exceptional rust inhibiting protection of parts subject to a hot and humid environment. Product was applied to carbon steel test samples that had one side with a ground finish and then placed outside in the rain for five days, and then placed indoors for over one month.  The results have been excellent.  Each sample showed minimal signs of rusting after this test period. I hope that our favorable experience with your product will reinforce your continued success in the promotion of these remarkable products.
K. R. Rambler- Manager of Manufacturing Engineering;
Hovis Precision Products, Simpsonville, S.C.
Boeing's use of Prolong Ultra Cut for machining applications has had positive results. Prior to addition of Prolong's Ultra Cut 1, they could not get one 10″ deep hole completed with a drill lasting the entire hole. Using Prolong, they could complete six holes per drill- Applied by misting, not flooding. Further, metal-cutting saw blade would squeal and make all kinds of racket and chatter. With Prolong they now have a very quiet result.
The Boeing Company
Other Industrial Products
View all industrial products 
HERE