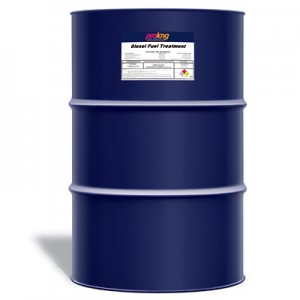 Prolong Super Duty Diesel Fuel Treatment contains premium detergents to clean injectors and the entire fuel system. It also provides protection against corrosion, decreases black smoke, and helps reduce sludge build-up to enhance performance and fuel economy. Increased fuel lubricity helps protect against premature pump and injector wear. Meets L-10 diesel fuel additive specifications for injector cleanliness. Meets Cummins N-14 diesel fuel additive specifications for corrosion protection with low and high sulfur fuels.
Product Overview
How to Use

For best results, wait until fuel tank(s) are nearly empty. Apply by pouring directly into fuel tank, then fill with fuel. Effective for all diesel vehicle, marine, stationary and generator engines.
1 to 2 oz. treats 10 gallons of fuel
8 oz. treats 50 gallons of diesel fuel
1 quart treats 200 gallons of diesel fuel
Available sizes
Quart-size Bottle
55-Gallon Drum
Also available in Industrial sizes.
Videos
Testimonials
After seeing your impressive demonstration of your Prolong products, we made the decision to test it in our truck #53, which is a Cummins with 552,433 miles and a 12315 transmission. (We used Engine Treatment in the crankcase, Transmission, Gear & Differential Treatment in the transmission, front differential and rear differential, and AFMT to each of the front wheel hubs. We then applied Diesel Conditioner to 200 gallons of diesel fuel). After the first week of travel, which was about 7,000 miles, the test results showed that the mpg went from 4mpg to 5mpg, an increase of 25% in mileage, or an additional 200 miles per fill-up. The driver of the truck (who was never told of the Prolong addition) noticed that the shifting of the gears was so much smoother and easier. He also noticed a substantial increase in horsepower. In general, the whole truck runs better and smoother. We hope to be able to add it to the rest of our tanker fleet soon.
M. Autrey, Chief Mechanic
Cantley Transportation, Inc.
Other Commercial Products
View all commercial products 
HERE