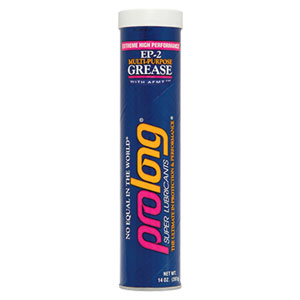 Prolong EP 2 now with AFMT is a Calcium Sulfonate grease, which is characterized by exceptional corrosion protection, high dropping point and mechanical stability. Due to its unique chemistry, Prolong EP 2 w/AFMT provides superior protection against corrosion in harsh, corrosive environments. The very high load carrying ability, excellent resistance to water, oxidation and corrosion, and outstanding performance in a wide temperature range, make it a high performance premium grease. It contains no heavy metals or other harmful or environmentally undesirable additives, such as phosphorus, zinc, phenols, antimony, barium or lead.
Product Overview
Excellent load carrying ability
Lubricates over wide extreme temperature range
Effectively resists burn and water washout
Helps prevent rust, corrosion and oxidation
Exceeds NLGI GC/LB (ASTM D 4950)
SDS & PDS
How to Use
This product is designed for use in any standard cartridge loading grease gun. For proper loading, see grease gun instructions.
For other crankcase capacities or engine applications, use Prolong Engine Treatment at 10% of the volume of oil.
Available sizes
Videos
Testimonials
Other Automotive Products
View all automotive products 
HERE